Experiencing Hajj two years after the onset of the pandemic
In line with their Vision 2030, the Kingdom had introduced many changes, with mixed results.
As I entered Islamabad International Airport this July, I smiled as I recollected the same pathway I had taken in 2019 as a "Reluctant Hajji" – the major difference being that my previous qualms had now made a 180-degree shift and I was eager to start the journey, one which I had not thought possible amidst the Covid-19 travel ban. My enthusiasm was further bolstered by the welcome board en route to Makkah which stated "Guests of Ar-Rahman, your safety is our responsibility".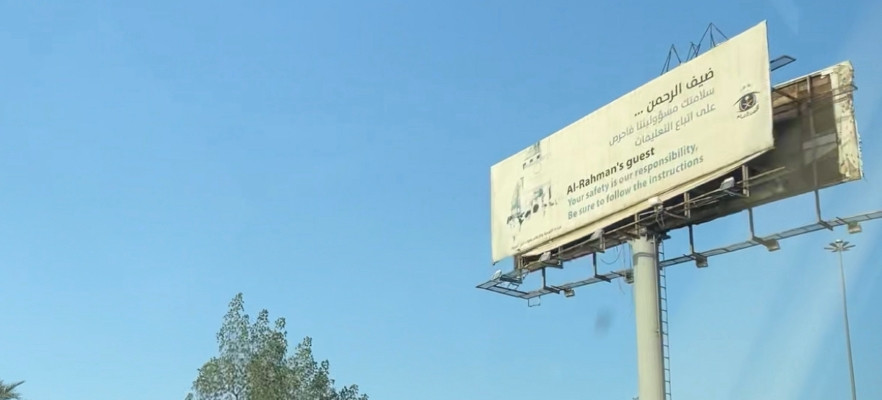 On July 7th, I joined the one million pilgrims – 1.5 million less than in 2019 – in Minna. This was the largest Hajj gathering since the pandemic had forced numbers to 10,000 Muslims in 2020 and 60,000 Muslims in 2021. Suffice to say, all eyes were on the Kingdom. This year's Hajj also coincided with 100 years of Saudi Arabia's organising of the annual pilgrimage. Hajj 1443 was made all the more special since it coincided with a Friday, making it Hajj-e-Akbar.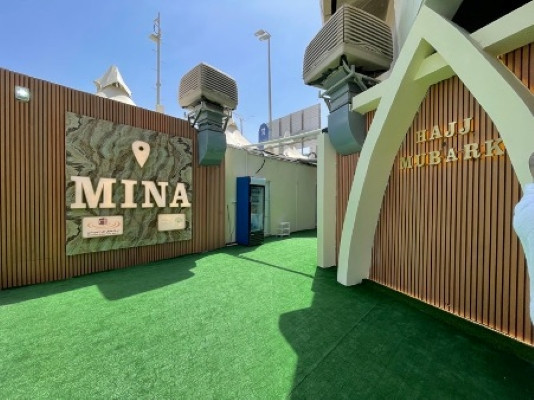 Compared to my previous experience, the zeal among the pilgrims seemed somewhat diminished. At first, I believed these to be misapprehensions given the reduced numbers. However, increased interaction with my companions made me realise that the pandemic, circumventing all biases, had been hard on everyone regardless of stature. Without a doubt, Covid-19 has broken each and every one of us in some way. The white barrier between the Kabbah and pilgrims was a reinforcing testament to the 'new normal' we have all been forced to adopt.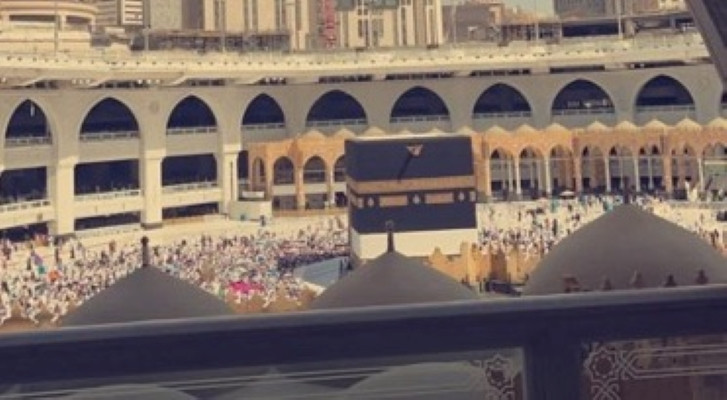 From my past encounters, I was on the lookout for miracles. And I was not disappointed. A friend had related that the people of Makkah claim that clouds provide shade to the Hujjaj. I witnessed this first hand on the Day of Arafat – considered the apex of Hajj – during which unexpected clouds started forming in a previously clear sky, thereby making it tolerable to sit outside in the 44-degree heat. The same happened during the rest of the pilgrimage days. Each ritual reaffirmed what I had grown up hearing: "Hajj sabr ka naam hai" (Hajj is the name of patience), which further reinforces the South African phrase "Umuntu Ngumuntu Ngabantu" (I am because of what we all are). This feeling, I believe now, is a miracle in itself.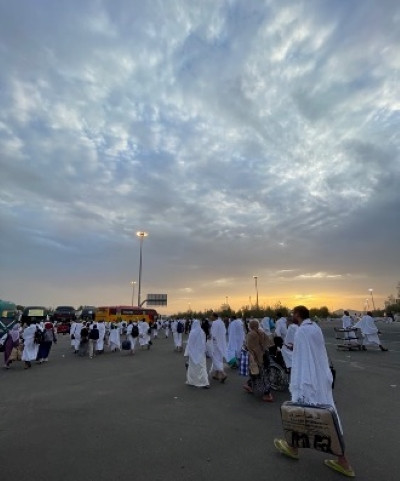 In line with their Vision 2030, this year, the Kingdom had undertaken many experiments and introduced many changes, with mixed results. A major issue was for those journeying from America, Europe and Australia who had to apply for Hajj using an online portal. There was a lack of clarity in the draw process and mix ups, as a result of which, many people were turned back from the airport.
However, this is not to take away from the many improvements I witnessed. In keeping with their national rejuvenation plans, the Saudis had increased the application of modern technology by harnessing the best electronic devices available. This included the "In your languages, we welcome you" campaign, which aims at guiding the pilgrims in 23 languages. This highlighted increased inclusivity and accommodation of pilgrims which I had previously not witnessed.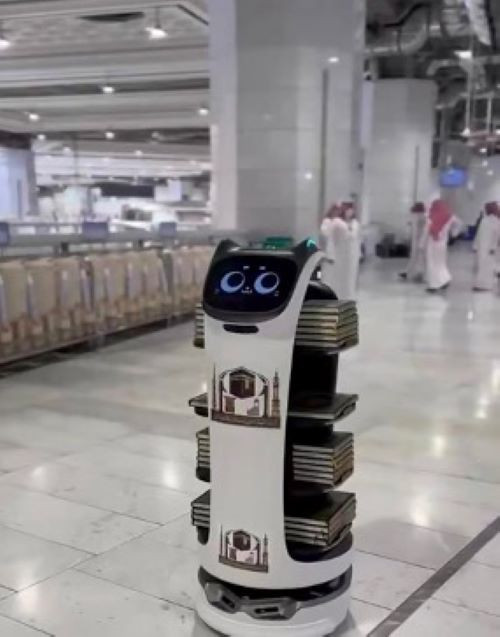 A robot introduced in the Grand Mosque, Makkah to distribute Qurans to worshipers.
One of the most enjoyable sights for me was to see Hajjis zooming along on electric scooters. As a trial service, the Saudi Public Authority for Transport provided pilgrims with this service to help ease the time taken between Holy sites. For instance, the usually one-hour walk between Arafat to Muzdalifah was reduced to just 15 minutes. This is in addition to the Saudi Hajj Ministry's adoption of smart technologies to help assure comfort of the Hajjis.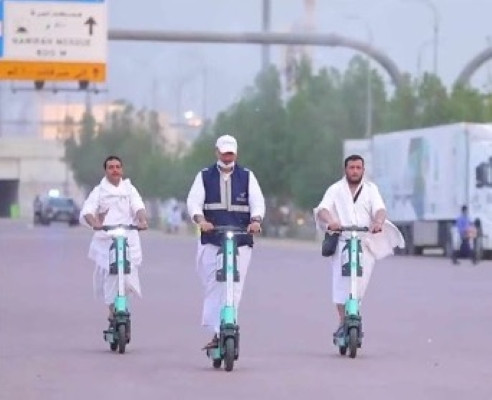 By the same token, there were visibly increased numbers of security officials and scouts to aid the pilgrims not only during the rituals but also in and around the Holy Mosques. Another marked change was the greater role of the youth in all areas of pilgrim assistance; be it spraying water on the pilgrims to provide relief from the heat or medics and security personnel.
Similarly, even though on previous visits I had noticed the expanding role of women in workplaces in the country, this time around it was very distinct. Now there were uniformed women officers inside the Mosque, women volunteers at the airport and even women administering passenger data input. These tasks had previously been reserved for men alone.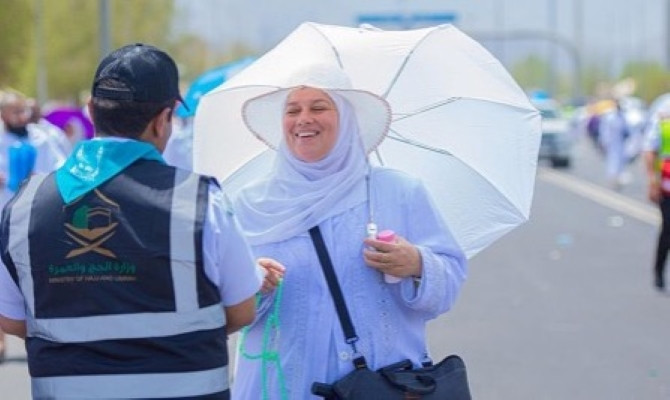 Needless to say, after a two year international hiatus, Hajj 1443 was a success and a triumph for the Muslim ummah in the face of the trials and tribulations brought on by the pandemic. Restored, refreshed and recentered, I departed Madina airport, leaving a part of my soul in Makkah and a piece of my heart in the Prophet's (PBUH) city.
---
All photos courtesy of the author.
Saifullah Paracha's 18 years in an unjust system
Guantanamo is an example of state-sponsored terror and a stain on the credibility of the US against its war on terror.
It has been more than 20 years since the war in Afghanistan started. Although the war came to an end last year, what outlasted it is the Guantanamo Bay Detention Centre, hereafter referred to as 'Gitmo'.
Gitmo was set up in January 2002 in a United States (US) naval base in Cuba to serve as the primary detention centre for suspected terrorists arrested by the US armed forces and intelligence from around the world. Undoubtedly, the American people suffered greatly during the 9/11 attacks but the subsequent methods applied by American stakeholders, especially regarding their exchanges and engagements with prisoners, raises serious questions about the United States' credibility as a responsible state and whether it respects basic human rights as much as it boasts about them?
Shreds of evidence, unfortunately for the US, prove that there was utter disregard for the human rights or rights of Prisoners of War (POW). A clear example of that is Saifullah Paracha's experience at Gitmo, who was arbitrarily detained, contrary and against international/domestic law. He remained at Gitmo from 2004 up until the end of October 2022, having lost 18 years of his life without any trial. What is more outrageous was his inability to appeal on November 10, 2005, as the US Senate approved an amendment that barred detainees' right to challenge their detention via habeas corpus pleas.
Enhanced Interrogation Techniques
In the early 2000s, the Central Intelligence Agency (CIA) came up with what it termed "Enhanced Interrogation Techniques" which were aimed at enabling the interrogators to extract as much information as they could from a detainee. However, in pursuance of those techniques, the interrogators became involved in practices that amounted to gross violations of human rights. The techniques included placing detainees in stressful positions for prolonged periods, holding them in solitary confinement, threats of further torture, exposure to extreme temperatures, and sleep deprivation for days. Psychological torture was practised along with physical torture to coerce the detainees to incriminate themselves, even if they had nothing to do with terrorism in the first place.
Systematic injustice
In the words of Oves Anwar, who serves as the director of research at the Research Society of International Law, describes Gitmo as "a stain on international justice" and a "black spot in the history of United States' delivery of justice". Military commissions have legally failed to serve their purpose which was to try detainees. Out of the 780 detainees, only one has been convicted by the federal court and two by the military commission. Measures were also taken to sustain Gitmo's operation that was contrary to the international law of war detention, international human rights laws, conventions, and treaties. These systematic measures included both legislation and executive presidential orders.
According to US Vice President Dick Cheney on September 16, 2001:
"We have to work, though, sort of the dark side, if you will… if we're going to be successful. That's the world these folks operate in, and so it's going to be vital for the US to use any means at our disposal, basically, to achieve our objective."
The US, through the years, has gradually lost its credibility as a responsible nation that respects international law, the law of individuals, and the laws of prisoners of war. Its inhumane treatment of inmates in Guantanamo serves as sufficient proof. No civilised country can have the moral courage to undertake such arbitrary measures against foreign suspects, especially such suspects who, more often than not, were mistaken individuals or people who had nothing at all to do with Al Qaeda or the 9/11 attacks.
What happened in Guantanamo and other places similar to it amount to heinous crimes against humanity and gross violations of a person's dignity, mental health and self-respect. Had these actions been undertaken by a country other than the US, the human rights regimes and organisations would have lobbied to such an extent against it that it would have induced condemnation from across the globe, the government would have been labelled extremist, and a regime change would have taken place in the name of freedom of individuals and their human rights. All states hold equal status as per International Law and there is no reason why the US should be treated extraordinarily.
Guantanamo is a classic example of state-sponsored terror and a stain on the credibility of the war on terror. Violence only begets more violence, and as far as Gitmo is concerned, it has only added fuel to the fire of hatred against the West.
Some films are too hard to kill
It is still a Pakistani film made by Pakistanis, filmed in Pakistan and depicting it. Shouldn't that be reason enough?
From Cannes to Cairo, Joyland gave Pakistan many moments to be proud of, with a possible Oscar on the horizon. However, the hopes of having the film screened in Pakistan were shot down, and the Central Board of Film Censors (CBFC) played the smoking gun.
Let's be honest though, does censorship even matter? Is it rational to have fear over a trans-love film? The belief that the film is inciting moral indecency and predilections are just a shy way of hiding the fear of a growing empathy for the transgender community, especially when this community dates far longer than the inception of this country.
The film's exhibition licence was issued in August 2022 and was set to be screened on November 18, 2022. But in a not-so-shocking turn of events, CBFC issued a censor of the film on November 11th. A tweet from Jamaat-e-Islami Senator Mushtaq Ahmed on November 12th revealed Joyland's censor certificate. The certificate grounds its reasons for written complaints, referring that the film did not conform to social and moral standards, citing Section 9 of the Motion Picture Ordinance 1979, to validate their action. An outcry for the injustice and alleged unconstitutional move made by CBFC had fans of Joyland and its cast/crew flocking to social media seeking vindication.
The main detractors of the film point out how the film is a glorification of immorality, all complaints without ever even watching the film. However, this film is not the first in Pakistan to depict a transgender person, where the majority would depict said character as the butt of the joke. I had the fortunate opportunity to watch the film, although heavily edited, and in one scene of the film, Biba (Alina Khan) overhears jokes about "what is in her pants". She does not take that joke lightly and grabs one of the men and holds him against the wall, her hand on his neck. Biba's response is the response of all transgender people in Pakistan: they are not a joke. Joyland's direction places a love story between Haider and Biba, but in this case, the film does not treat it as a joke.
Violence, rape or social critique, we are not unfamiliar with; the news doesn't hide it and WhatsApp conspiracy theory group chats don't either. Why selective censorship, especially when promoting it would be beneficial to society and the country's image at large?
Recently, the Transgender Persons (Protection of Rights) Act (2018) was rehashed for debate, as some religious groups called the bill a promotion of 'homosexuality' and, again, social immorality. Plain and simple, the bill ensures that those who fall under the category of transgender, by self-determination, will be guaranteed their rights are protected and can function as a citizen within Pakistan (on paper at least).
When Biba retorts to the jokes about her, her response reflects the ridicule and criticism her gender since time immemorial. This film does promote transgender rights, building society's empathy. There is nothing glorious about being disinherited and disowned by your family, having a higher chance of being murdered, being outcast by society and much more. The film doesn't glorify immorality but shows the injustice and harsh judgement that minority groups such as the transgender community face on a daily basis. We as a society bottleneck minority groups believing that it's their choice to face such a life, but for them, it is the reality, not a choice.
Censorship does not protect people from the worst parts of life. Movies such as Javed Iqbal (2022), which was censored, retell actual events of a serial killer who killed 100 young boys in Lahore. The reality of those boys being brutally murdered does not change with censorship; society has not forgotten, and certainly the boys' families have not either. Joyland's censorship only covers a fraction of the injustice towards the transgender community.
This film matters a great deal internationally, winning accolades from prestigious foreign film organisations, but it matters so much more for Pakistan. Its recognition highlights a chance to show the world something – the culmination of six long years from its cast and crew. One cast member, Sarwat Gilani, pleads saying,
"Don't take away this moment of pride and joy from our people!"
It is not only about the film's story, but Pakistan is currently having a moment to take pride in its hard work. The sweat, time, effort and tears of its film industry.
No matter the complaints, it is still a Pakistani film made by Pakistanis, filmed in Pakistan and depicting a part of Pakistan. Shouldn't that be reason enough? While CBFC censoring the film doesn't disqualify it from being an Oscar contender; in fact, the film has plans to screen in France on November 22nd. The traction the film is receiving hasn't ceased, and a "high-level committee" reviewed CBFC's decision and overturned it, allowing Pakistan a screening, and as of November 16th, the film is cleared to screen nationally. However, despite overruling CBFC's decision, the Punjab government has promptly revoked its decision to screen Joyland in the province, while Sindh will follow through with its release.
Before the CBFC's ban, the director of Joyland, Saim Sadiq, went on to say that the film is still legally certified to release in Punjab and Sindh. He further added that CBFC's action was unconstitutional, saying,
"The 18th Amendment in the Constitution gives all provinces the autonomy to make their own decision."
On the provincial level, the film was approved for screening on November 18th (prior to CBFC's ban), so this draws the question of how the film could be banned after receiving approval.
The internet gives people many avenues to access such movies, and Joyland being screened elsewhere could segway to movie piracy. Film or no film, there will always be more people who will shed light on the plight of the transgender community and other injustices. Censorship only diverts rather than act as a preventative, and is especially pointless given the access internet provides. If the world wants to watch the film, why wouldn't Pakistan? It is the responsibility and prerogative of the individual to decide if they want to watch the film, not some written complaints.
Video leaks for character assassination: A disgusting tactic
Engaging in such malpractices to disempower opponents reflects a sick mentality and the ugliness of Pakistani society.
Pakistan's politics of late has become extremely ugly. In addition to the threat to the lives of politicians, the recent practice of leaking indecent videos against political figures has become quite rampant. This new trend in Pakistan's politics is quite dangerous, and if it goes unchecked, the country will soon become hostage to anarchist forces.
Pakistan, which has seen its large swathes of land swept over by flood water, its economy floundering, its society and its politics increasingly becoming polarised, its journalists harassed and killed, had yet to see more ugliness as if it hadn't had enough of it already.
Sadly, this trend started with the leaking of Pakistan Muslim League-Nawaz (PML-N) stalwart Muhammad Zubair's improper video. Soon after the video made rounds on social media, Zubair's opposition was in a glee, not knowing that one day the same will happen to them. This was followed by a brief lull, until a crude video was leaked featuring Pakistan Tehreek-e-Insaf (PTI) senator Azam Khan Swati and his wife.
It was such an unfortunate incident that the PTI senator wept publicly and demanded that such malign practices should stop. Earlier, the same senator alleged he was picked up and tortured by intelligence officials. Such was the impact of the torture and video leak that the senator publicly named those who were involved.
Unfortunately, the trend didn't stop here, as recently another video was seen making rounds featuring the former senator and PML-N leader Pervaiz Rashid.
Engaging in such malpractices to disempower political opponents reflects a sick mentality, which further sheds light on the ugliness of Pakistani society. Wresting power from political opponents can be done in another and far cleaner manner, without resorting to such mean and disgusting methods. Character assassination is not an old practice in Pakistan, but the recent normalisation of leaking videos to tarnish the characters of political figures is something to be worried about.
Before the video leaks, audio tapes of various political leaders were leaked. Ironically, even the most secure office in Pakistan, the Prime Minister's office, couldn't save itself from the assault. Moreover, the audio leaks were intended to attach illegitimacy to the political figures and thereby diminish public support. However, this didn't produce the desired results.
These desperate attempts of democratic and non-democratic forces bode ill for the Pakistani society. The already fragile socio-political system cannot withstand further inventions in political ugliness and indecency. More ugliness will be followed by more weakness and polarisation.
The recent riverine floods left the country devastated. As a consequence, masses have been dislocated, and most of them are shelterless, without any possible relief from their woes in sight. What is worrying, however, is that there is a surge in diseases which would badly affect the infants in flood-hit areas. Not only this, but the economy is in utter disrepair, with the country's youth growing increasingly disappointed with the rising inflation and unemployment. These concerns have, however, taken a back seat while what is more important for the political class is power grab. This struggle for power has turned uglier, leading to demeaning video leaks surfacing in abundance.
In such an asphyxiating political environment, there is no space for any progress; rather, society regresses further. Ethical limitations do exist in politics across the world, but here in Pakistan, such a concept is nowhere to be seen. In Pakistan, it is considered rather an achievement to demolish someone's character for political gains than something to be ashamed of.
Conclusively, what is needed at this hour is a consensus among all the political parties that despite of their political differences, there should be no space allowed for an assault on the opposing political figure's character, and an agreed upon charter should be formulated and implemented which would enumerate limitations not to be crossed by any political figure for the sake of attaining power and support. This could prove effective in reducing the intensity of the prevailing political ugliness in Pakistan.