Sazgar unveils the first state-of-the-art
In a world where consumers desire for greater efficiency and auto manufacturers are pushing for more eco-friendly transportation options, hybrid powertrains are a great option. Keeping this in mind, Pakistan's foremost automotive manufacturer, Sazgar, has revolutionised the automobile industry with the introduction of its first locally assembled hybrid electric vehicle, the Haval H6.
Featuring high efficiency, low fuel consumption and excellent performance on all types of roads, the Haval H6 HEV belongs to the C-segment of lightweight crossover SUVs.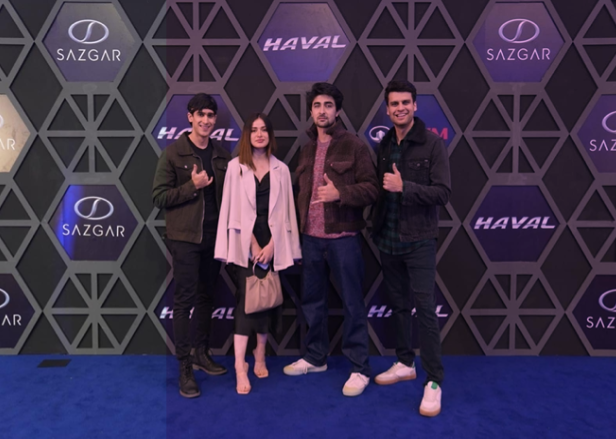 Several of Pakistan's most influential people attended the launch party at Faletti's, Lahore on Thursday, including Pakwheels co-founder Suneel Sarfraz Munj. Other notable content creators from Lahore, such as Taimoor Akbar, Khaqan Shahnawaz, Zarrar Khan and Aena Khan also graced the event.
Both the car reveal and the launch ceremony were marked by impressive performances by 'The Colony'. The event was a monumental success for automotive innovation in Pakistan and was enjoyed by car aficionados, dealers and top business executives.
Bringing the latest technologies to Pakistan's automobile industry has been a priority for Sazgar since the beginning. With an extensive network of dealerships throughout Pakistan, it is also known for its excellent after-sales service by ensuring the delivery of its vehicles in record time. Likewise, the company has had great success with its Havel H6 petrol variant in the past as well.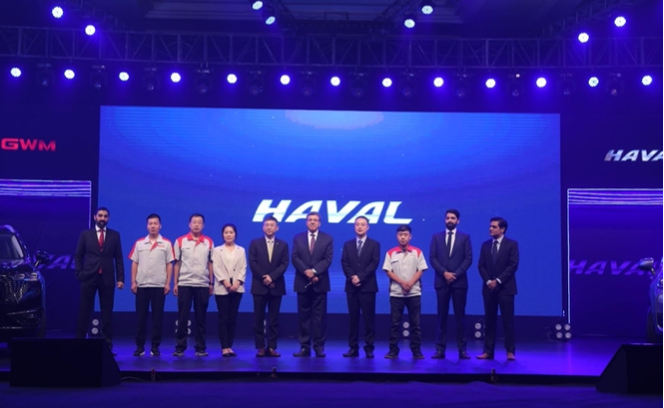 This time Haval has brought forth the first locally assembled (CKD) hybrid unit in Pakistan with cutting-edge features and international standard safety features.
As part of its distinguished features, Haval H6 HEV is equipped with 240 horsepower, 530NM torque, 19-inch alloy wheels, front radar, fully automatic parking, autonomous reverse, blind spot detection, lane change assistance, intelligent dodge, rear collision warning, ventilated and 4-way electric seats, an anion air purifier, heads up display, and ambient lighting.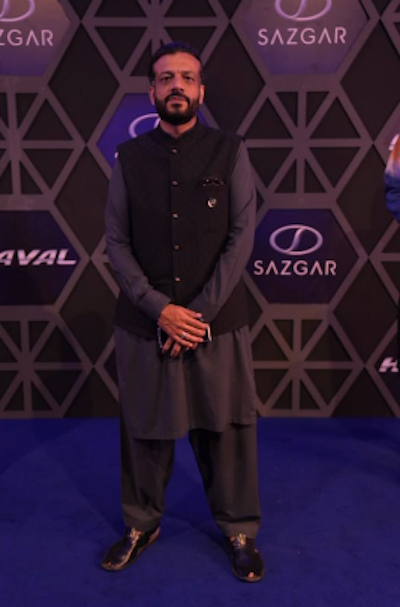 On this momentous occasion, CEO-Sazgar Engineering Works shared his thoughts:
'The number one vehicle in the world's largest market. My praise for this SUV will not be needed as the car speaks for itself."
Sazgar's dedication to ensuring Pakistan's technological advancement is indeed admirable. With to its state-of-the-art production facilities and efficient operation through people-centric policies, it has successfully established itself as the global leader in the 3-wheeler category.
Microsoft admits Sony has has 'better' exclusive games
Microsoft has recently admitted that its rival, Sony, has "better quality" games than Xbox in a filing with UK's Competition and Markets Authority (CMA). The assertion was made on October 31, but the document was recently made public, Eurogamer noted.
Microsoft elaborated its stance, saying that Sony was "the dominant console provider" and " a powerful game publisher". It explained that "Sony is roughly equivalent in size to Activision and nearly double the size of Microsoft's game publishing business."
Read: Global regulators to target crypto platforms after FTX crash
Comparing data, Microsoft wrote in the filing that Sony had five times as many of their 280 exclusive first- and third-party titles, on PlayStation. Besides just owning franchises like God of War and Spider-Man, Sony has signed deals with third-party publishers for exclusive rights to games.
Microsoft also claimed that console exclusives accounted for a higher percentage of global game sales for Sony than their own company. The company detailed review scores for PlayStation and Xbox, saying "the average Metacritic score for Sony's top 20 exclusive games in 2021 was 87/100, against 80/100 for Xbox".
CMA is conducting an in-depth investigation into Microsoft's acquisition of Activision Blizzard, which has raised concerns by Sony, particularly over the franchise Call of Duty, which could be made exclusive to Xbox only, if the deal goes through.
Netflix is working on a 'brand-new AAA PC game'
Netflix is currently hiring game directors and engineers to work on a "brand-new AAA PC game" at its new Los Angeles games studio.
The project has yet to be announced by the streaming platform itself. However, as per a job listing spotted by Mobilegamer.biz, Netflix needs a game director who "will be the creative leader of one of Netflix's first generation of internally developed original games".
 Apart from multiple job listings, there are not many details available regarding the new project.
Read Global regulators to target crypto platforms after FTX crash
The digital platform has previously launched some games, but they were specifically suited for mobile phones. While many users are unaware of the games on Netflix, the platform plans to venture into PC gaming and expand its audience.
Global regulators to target crypto platforms after FTX crash

LONDON:

The crash of FTX exchange has injected greater urgency into regulating the crypto sector and targeting such 'conglomerate' platforms will be the focus for 2023, the new chair of global securities watchdog IOSCO said in an interview.
Jean-Paul Servais said regulating crypto platforms could draw on principles from other sectors which handle conflicts of interest, such as at credit rating agencies and compilers of market benchmarks, without having to start from scratch.
Cryptoassets like bitcoin have been around for years but regulators have resisted jumping in to write new rules.
But the implosion at FTX, which left an estimated one million creditors facing losses totalling billions of dollars, will help change that, Servais told Reuters.
"The sense of urgency was not the same even two or three years ago. There are some dissenting opinions about whether crypto is a real issue at the international level because some people think that it's still not a material issue and risk," Servais said.
"Things are changing and due to the interconnectivity between different types of businesses, I think it's now important that we are able to start a discussion and that's where we are going."
IOSCO, which coordinates rules for G20 countries and others, has already set out principles for regulating stablecoins, but now the focus is turning to platforms which trade in them.
In mainstream finance there is functional separation between activities like broking, trading, banking services and issuance, with each having its own set of conduct rules and safeguards.
"Is it the case for the crypto market? I would say most of the time not," Servais said.
Crypto 'conglomerates' like FTX have emerged, performing perform multiple roles such as brokerage services, custody, proprietary trading, issuance of tokens all under a single roof that give rise to conflicts of interest, Servais said.
"For investor protection reasons, there is a need to provide additional clarity to these crypto markets markets through targeted guidance in applying IOSCO's principles to crypto assets," Servais said.
"We intend to publish consultations report on these matters in the first half of 2023," he added.
Madrid-based IOSCO, or International Organization of Securities Commissions, is an umbrella body for market watchdogs like the Securities and Exchange Commission in the United States, Bafin in Germany, Japan's Financial Services Agency, and the UK Financial Conduct Authority, who all commit to applying the body's recommendations.
The European Union's new markets in cryptoassets or MiCA framework is an "interesting starting point" for developing global guidance as it focuses on supervision of crypto operators, said Servais, who also chairs Belgium's financial regulator FSMA.
"I think that the world is changing. We know there is some space for developing new standards about supervision of this kind of crypto conglomerates. There is an obvious necessity," Servais said.