With Zidane back on the sidelines, will Real Madrid make the most of the summer transfer window?
Real will have to be clever in the transfer market before more scar tissue builds against their formidable status
For much of the 2018-19 season, Real Madrid's campaign has been driven by pessimism and trepidation.
From mediocre performances on the field to a lack of purpose off it, the Los Blancos found themselves entrenched in a diatribe with a swathe of negative opinions from fans and critics alike. 
But the return of the clubs's favourite son Zinedine Zidane after his dignified exit nine months ago has cut through all the noise, at least for the time being. Zizou's work is cut out for him as the rebuilding job at a club like Real Madrid, with extremely high expectations, won't be an easy task by any stretch of the imagination.
https://twitter.com/kevinchimuka/status/1113392173150502914
However, unlike towards the end of his last tenure, Zidane will have financial backing from the club. A report from The Independent claimed "Real Madrid president Florentino Perez has promised Zidane an expensive overhaul," immediately after the Frenchman's arrival. A few days later L'Equipe's front page (titled Casino Royal) stated that:
"Perez is ready to show faith in Zidane to turn the ship around by giving him a €500 million summer budget."
If Madrid are keen on spending heavily in the upcoming summer transfer window, they will have to do it wisely, bearing in mind their current expectations and without compromising future ambitions.
Defence
Real Madrid's defence is, arguably, the least concerning aspect of their squad. Sergio Ramos and Raphael Varane might not have had the best of seasons, but they still form a formidable pairing in the centre of defence.
But with Ramos aging and especially if Varane decides to leave, Madrid would need adequate replacements in order to beef up their backline options.
Looking at the options, three names stand out in particular. These include Napoli's Kalidou Koulibaly (27), Inter Milan's Milan Skriniar (24) and Ajax's Matthijs de Ligt (19).
Kalidou Koulibaly during the Serie A match between US Sassuolo and SSC Napoli at Mapei Stadium – Citta' del Tricolore on March 10, 2019 in Reggio nell'Emilia, Italy. Photo: Getty
All three have no obvious weaknesses and possess the ideal skill set expected from a defender (strength, positioning and ball playing skills), supplemented by the fact that they are young enough to be part of the club for a very long time.
While Madrid would be happy to bring in any one of these players, Skriniar would be cheaper as compared to the other two, considering the absence of a release clause in his contract with Inter.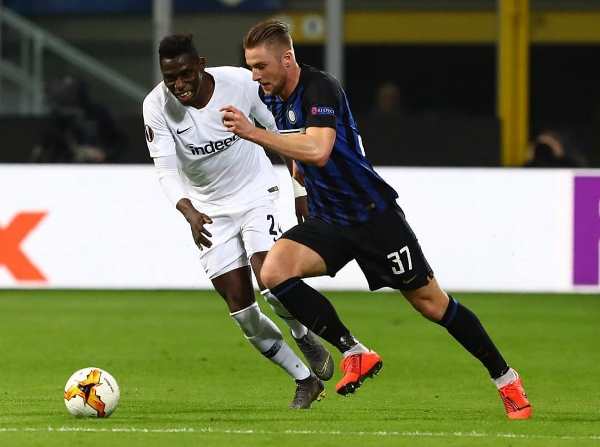 Milan Skriniar of FC Internazionale competes for the ball with Danny da Costa of Eintracht Frankfurt during the UEFA Europa League Round of 16 Second Leg match between FC Internazionale and Eintracht Frankfurt at San Siro on March 14, 2019 in Milan, Italy. Photo: Getty
The 24-year-old also offers an added dimension of having played as a defensive midfielder with the Slovakian national side, and consequently can provide cover on two positions while also aiding in-game tactical switch.
Midfielders
Real Madrid have a substantial amount of talent in the centre of the park, with an impressive blend of young (Marcos Llorente, Fede Valverde and Dani Ceballos) and experienced players (Luka Modric, Toni Kroos and Casemiro).
In order to cater to an aging Modric and take off pressure from Kroos, Madrid need a couple of additions to their midfield. However, they don't need to spend heavily in this regard as the players they have loaned out – James Rodriguez to Bayern Munich and Mateo Kovacic to Chelsea – will be ideal suitors.
Rodriguez's incisiveness in the final third, both in open play and dead ball situations, will add creativity in central positions. This is of particular importance because a majority of Madrid's attacks are wing-based, which is why the Colombian's presence will stretch opposing defences and bring more unpredictability going forward. Also, through his quotes in the press, the midfielder has also indicated that there is no love lost between him and the Spanish giants, despite being left frustrated for playing time under Zidane previously.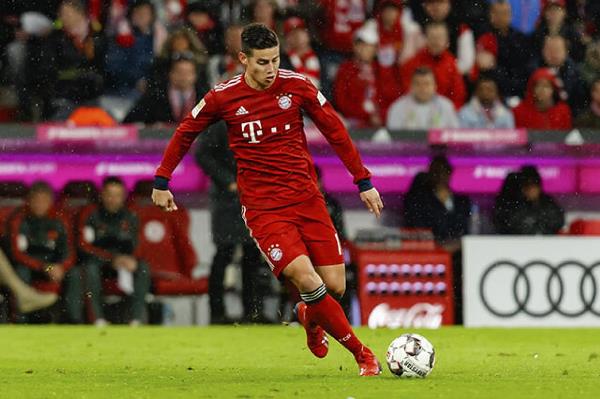 James Rodriguez of FC Bayern Muenchen controls the ball during the Bundesliga match between FC Bayern Muenchen and 1. FSV Mainz 05 at Allianz Arena on March 17, 2019 in Munich, Germany. Photo: Getty
Kovacic might not have had the best of seasons at Chelsea, but he can still play a vital role in The Whites midfield with his ability to play line-breaking passes; a trait which is of pivotal importance, especially against many La Liga sides who like to sit deep and defend. Also, the Croatian's best time in Madrid colours came while playing under Zizou, which makes a strong case of having him back in the Spanish capital.
Mateo Kovacic of Chelsea in action during the FA Cup Fifth Round match between Chelsea and Manchester United at Stamford Bridge on February 18, 2019 in London, United Kingdom. Photo: Getty
Forwards
Ever since the departure of club legend Cristiano Ronaldo, the talk surrounding Real Madrid's attacking pedigree has shown no signs of subsiding. Since the departure of the Portuguese, the goals have significantly dried up for the Los Blancos and hence the need for some clinical finishers in front of the goal is, probably, more than ever.
Talking about forwards, one player that has constantly been linked with Real Madrid is Chelsea's Eden Hazard. Although there is no doubt about the Belgium international's footballing prowess and he will also be a seamless fit at Real, signing him now, at the age of 28, would mean the club shelling a lot of money in return for only two to three peak years. While it would be unfair to totally rule out a move, the club should only consider Hazard as a fall-back option.
31st March 2019, Cardiff City Stadium, Cardiff, Wales; EPL Premier League football, Cardiff City versus Chelsea; Eden Hazard of Chelsea looks back at a missed chance. Photo: Getty
Moving on, Paris Saint-Germain's (PSG) Kylian Mbappe, despite being an ideal solution to Real Madrid's goal scoring troubles, is a long shot considering his massive price tag. Although there are plenty of rumours in the transfer market regarding his move to Spain, the French club will go all out to keep the 20-year-old star at the club, keeping in mind the fact that he is at the core of their European ambitions.
Kylian Mbappe of PSG celebrates a goal during the Ligue 1 match between Paris Saint Germain and Guingamp at Parc des Princes on January 19, 2019 in Paris, France. Photo: Getty
Taking into account all the factors and realistic options available on the market, Real Madrid will be better off if they work on the lines of signing Liverpool's Sadio Mane and Inter Milan's Mauro Icardi.
Mane's pace and technical ability has been part and parcel of Liverpool's success in the past couple of seasons, and he will add a lot of potency to Real Madrid's attack. Although he has played mostly as a winger for The Reds, if need be, he can play in a more central role as a striker as well. In Mane, Madrid will find a willing worker, who can track back and help out with defence and also link up well with Marcelo Vieira on the left wing.
Sadio Mane of Liverpool FC runs with the ball during the Premier League match between Liverpool FC and Tottenham Hotspur at Anfield on March 31, 2019 in Liverpool, United Kingdom. Photo: Getty
On the other hand, Icardi has stacked up some great numbers for his Italian club with his lethal finishing. He may not participate much in build-up play but his positioning and movement in front of the goal is particularly impressive. Real Madrid have been guilty of creating lots of chances but not converting them during the ongoing season, but Icardi's signing should go a long way in changing that.
Mauro Icardi of FC Internazionale scores the second goal during the Serie A match betweenGenoa CFC and FC Internazionale at Stadio Luigi Ferraris on April 3, 2019 in Genoa, Italy. Photo: Getty
To Madrid and Zidane's advantage, being knocked out of the title race on all fronts is somewhat a blessing in disguise, as it gives them additional time to plan for the future. But the 13-time European Champions will have to be clever with the way they go about their business in the transfer market, before it builds up more scar tissue against their name as a formidable force in the world of football.
Microsoft admits Sony has has 'better' exclusive games
Microsoft has recently admitted that its rival, Sony, has "better quality" games than Xbox in a filing with UK's Competition and Markets Authority (CMA). The assertion was made on October 31, but the document was recently made public, Eurogamer noted.
Microsoft elaborated its stance, saying that Sony was "the dominant console provider" and " a powerful game publisher". It explained that "Sony is roughly equivalent in size to Activision and nearly double the size of Microsoft's game publishing business."
Read: Global regulators to target crypto platforms after FTX crash
Comparing data, Microsoft wrote in the filing that Sony had five times as many of their 280 exclusive first- and third-party titles, on PlayStation. Besides just owning franchises like God of War and Spider-Man, Sony has signed deals with third-party publishers for exclusive rights to games.
Microsoft also claimed that console exclusives accounted for a higher percentage of global game sales for Sony than their own company. The company detailed review scores for PlayStation and Xbox, saying "the average Metacritic score for Sony's top 20 exclusive games in 2021 was 87/100, against 80/100 for Xbox".
CMA is conducting an in-depth investigation into Microsoft's acquisition of Activision Blizzard, which has raised concerns by Sony, particularly over the franchise Call of Duty, which could be made exclusive to Xbox only, if the deal goes through.
Netflix is working on a 'brand-new AAA PC game'
Netflix is currently hiring game directors and engineers to work on a "brand-new AAA PC game" at its new Los Angeles games studio.
The project has yet to be announced by the streaming platform itself. However, as per a job listing spotted by Mobilegamer.biz, Netflix needs a game director who "will be the creative leader of one of Netflix's first generation of internally developed original games".
 Apart from multiple job listings, there are not many details available regarding the new project.
Read Global regulators to target crypto platforms after FTX crash
The digital platform has previously launched some games, but they were specifically suited for mobile phones. While many users are unaware of the games on Netflix, the platform plans to venture into PC gaming and expand its audience.
Global regulators to target crypto platforms after FTX crash

LONDON:

The crash of FTX exchange has injected greater urgency into regulating the crypto sector and targeting such 'conglomerate' platforms will be the focus for 2023, the new chair of global securities watchdog IOSCO said in an interview.
Jean-Paul Servais said regulating crypto platforms could draw on principles from other sectors which handle conflicts of interest, such as at credit rating agencies and compilers of market benchmarks, without having to start from scratch.
Cryptoassets like bitcoin have been around for years but regulators have resisted jumping in to write new rules.
But the implosion at FTX, which left an estimated one million creditors facing losses totalling billions of dollars, will help change that, Servais told Reuters.
"The sense of urgency was not the same even two or three years ago. There are some dissenting opinions about whether crypto is a real issue at the international level because some people think that it's still not a material issue and risk," Servais said.
"Things are changing and due to the interconnectivity between different types of businesses, I think it's now important that we are able to start a discussion and that's where we are going."
IOSCO, which coordinates rules for G20 countries and others, has already set out principles for regulating stablecoins, but now the focus is turning to platforms which trade in them.
In mainstream finance there is functional separation between activities like broking, trading, banking services and issuance, with each having its own set of conduct rules and safeguards.
"Is it the case for the crypto market? I would say most of the time not," Servais said.
Crypto 'conglomerates' like FTX have emerged, performing perform multiple roles such as brokerage services, custody, proprietary trading, issuance of tokens all under a single roof that give rise to conflicts of interest, Servais said.
"For investor protection reasons, there is a need to provide additional clarity to these crypto markets markets through targeted guidance in applying IOSCO's principles to crypto assets," Servais said.
"We intend to publish consultations report on these matters in the first half of 2023," he added.
Madrid-based IOSCO, or International Organization of Securities Commissions, is an umbrella body for market watchdogs like the Securities and Exchange Commission in the United States, Bafin in Germany, Japan's Financial Services Agency, and the UK Financial Conduct Authority, who all commit to applying the body's recommendations.
The European Union's new markets in cryptoassets or MiCA framework is an "interesting starting point" for developing global guidance as it focuses on supervision of crypto operators, said Servais, who also chairs Belgium's financial regulator FSMA.
"I think that the world is changing. We know there is some space for developing new standards about supervision of this kind of crypto conglomerates. There is an obvious necessity," Servais said.